God, Present With Us and Through Us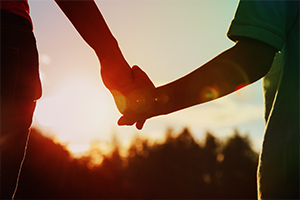 "And surely I am with you always, to the very end of the age." – Matthew 28:20
Unshakeable Assuredness
I was very young when I accepted Jesus as my Lord and Savior, only six years old. I was wide-eyed and innocent enough to believe that I could literally talk directly to God, that He heard me, and that He would talk back. I didn't know that scripture says that we can "come boldly before the throne of grace" (Heb. 4:16). I just knew that I was now part of God's family. He was my Heavenly Dad, and He loved me.
As I grew older and life began to creep in, I lost that unshakeable assuredness of my relationship with God, and I couldn't hear Him the same way. When heartache gripped me, as it almost assuredly will in life, I began to think that God abandoned me. The only thing I could do was turn to God's Word, so that through it I could hear His voice again. He said,
"I will never leave you nor forsake you." Joshua 1:5
"I am with you always, even unto the end of the world." Matthew 28:20
"[Nothing] will be able to separate us from the love of God." Romans 8:39
His Presence
What I learned over the years of death and loss, one divorce and a second failing marriage, infertility, sickness, homelessness, and on and on, was that even through the valley of the shadow of death, God was with me. It was His presence through every trial and every moment of joy that made the scriptures mean something to me. Having the presence of God was Him – REAL – in my life. It made me know that I am not alone.
So when I was asked to write on the importance of presence even in the workplace, my mouth said, "Absolutely!" But my mind went utterly and completely blank. I began to question, as a task-oriented person, how effective am I at being present with my colleagues and staff? Or with the aspiring entrepreneurs that I mentor? Or more personally with my family and friends? And how about with God, the one who is always present with me? The answer to these questions was that surely I wasn't present enough. Then God, in His forever patient, quiet way, reminded me
"With God all things are possible." Matthew 19:26
"In Him we live and move and have our being." Acts 17:28
"I can do all things through Him who strengthens me." Philippians 4:13
Present to Others
God showed me that through the Holy Spirit, I can be present for the people God places in my life and to care more about them than the tasks I want to get done. If I remain in Him, He will remain in me to accomplish what He wills. What I realized is that it's not about me being present for others, it's about remaining in God's presence so that He can be present for others through me. God removes the pressure from me to get it right, love right, lead right, be right! I can now be still and know that He is God (Psalm 46:10) and that His presence is with me and is all that I need to be present for others.
When have you recently been aware of God's presence with and through you?
Nancy Jordan
| | |
| --- | --- |
| | Nancy Jordan is the founder and CEO of Biz By Faith (BBF). Since 1992 she has helped entrepreneurs and ministries get started and operate more effectively. BBF's vision is to see Christian entrepreneurs use their God-given businesses to positively impact the community as a witness of Christ. Nancy received her Bachelor's degree from Truman State University and her law degree from Washington University School of Law. Nancy practiced family law in the domestic violence court room for a short while before returning to her passion of helping entrepreneurs birth and sustain their God-given visions. Nancy believes starting a business doesn't have to be hard or expensive, and that everyone who has a passion for something should get the support and encouragement they need to make it happen! |