God's Grace Alone is Sufficient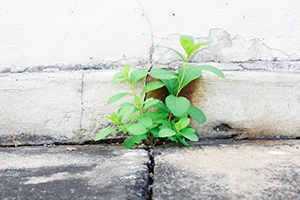 My grace is sufficient for you, for my power is made perfect in weakness. – 2 Corinthians 12:9
God's Grace Alone is Sufficient
When the staff went on our spiritual retreat day and Robert had tasked us with finding a word for the year, I already knew what word God was giving me.  I spent the day testing that word to make sure.  That word was absolutely, unequivocally grace.
Grace
I've always wished that I could be someone that moved with grace, but I've never been a very coordinated person. Perhaps because I couldn't move with grace in physical space, I've always wanted to move through life with grace. That seems like a good goal, but life is hard. I find myself failing to carry myself with grace when I feel frustrated or hurt or angry. Which brings me to the definition I want to focus on: God's love and favor showered on us even though we don't deserve it.
Forgiving Myself
I have always known in my head that I can't deserve all that God gives me, but to be honest, deep down I think I would rather deserve it. I would probably rather just be perfect than need grace.
The truth is, I have a much easier time forgiving others for not being perfect than I do forgiving myself. So even though as a pastor, chaplain, and now coach, I encouraged people to embrace the grace given to them by God, I need coaches in my life to tell me the same.
When I went on that retreat day, I had been beating myself up for almost a month about something that wasn't my fault. Though many mentors had told me as much, I eventually had to face that I was sinning in two respects:
I was too busy blaming myself for not being perfect to thank God for saving me from a tough situation, and
I was stubbornly insisting on punishing myself rather than allowing God's grace into my life.
Perfection
Perfectionists often get praise for the great, thorough work that they can do. However, perfectionism is an idol. I am trying to be perfect which leaves no room for God. This year I'm making sure that I remember that God's grace alone is sufficient, and it is in my weakness, not my strength that God's power is made perfect.
Will you use your imperfections to bring glory to God? Watch Robert Millar's video to learn more.

Jordan Dollar

Jordan Dollar joined BBT in 2017 responding to God's calling. Jordan has been involved in many facets of ministry, but has always embraced a coaching philosophy of empowering individuals to discover God's leading in their own lives. Jordan has served in several pastoral and chaplaincy roles in churches, hospitals, and hospice. A graduate of Concordia University of Chicago and George W Truett Theological Seminary, Jordan did his undergraduate studies in English literature and philosophy before earning a Master of Divinity with a concentration in theology. He is married to his best friend from college, Lisa, they have two young boys and are active in Dayspring Baptist Church in Town and Country, Missouri.