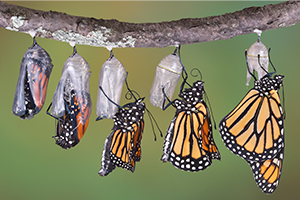 To everything there is a season, a time for every purpose under heaven…
– Ecclesiastes 3 NKJV
Growth takes time—I know that seems like a blinding flash of the obvious, but growth not only takes time, it requires it. Among the many definitions of growth, I like the way the Cambridge dictionary describes it, as a verb meaning to "pass into a condition; to become more advanced; to develop; to cultivate to flourish". Inherent in the very meaning of growth is the recognition of something happening over time. Given this definition, we should all want to take the time necessary for our lives to develop, become advanced and to flourish!
Take the Time
This is a reality that many of us—as in me—are generally not comfortable with. We don't like to take time, even when it is necessary for us to grow. Ecclesiastes, chapter 3 tells us that "To everything there is a season, a time for every purpose under heaven…"—and the next seven verses begin with, "A time to…". I was introduced to this chapter when I was 12 years old. While it endures as one of my very favorites, I must confess that I have spent far too many years trying to rush the hands of time. The result was stress, frustration, anger, diving head first into mistakes that could have been avoided, taking short cuts that were not short or productive, and wondering why things were not going as I planned.
Advice to my 25-year-old Self
If there is anything I would tell my 25-year-old self, it would be, that to everything there truly is a season—and as in nature, the seasons of our lives take time.  I would implore that always on, energetic, ready–now-to-take-on the world, 25-year-old me to take the time to grow!
The most profound reflection of 'growth taking time', has been in my spiritual journey.
Taking the time to grow in faith
Becoming slow to anger and quick to forgive
Not looking past the plank in my eye to the speck in someone else's
Knowing that faith without works is no faith at all
Finally, recognizing more fully that my dependence on God is my strength, has been, and continues to be time well spent!
Ready to Grow
The necessity of taking time to grow is beautifully illustrated in a story my mother shared when trying to teach me that "patience was indeed a virtue". She asked if I had ever had an opportunity to watch a caterpillar emerge from its cocoon and become a butterfly? It takes the young butterfly several hours just to enlarge the small hole it is given at one end of the cocoon. If we watched, we would probably be tempted to help the poor, struggling butterfly, perhaps by widening the hole for it. Don't we all wish for someone to come along and make our struggle easier? In the case of the butterfly, by forcing itself through such a small hole, fluid is forced from the butterfly's body so that it will be ready to fly when it is free of the cocoon. If this process is shortchanged in any way, the butterfly is never able to fly, and crawls around with a swollen body and shriveled wings.
There are times when we all want some chapter in our lives to just be over, especially if it is unpleasant. Over time, I have learned to be grateful in all things as I am here by the grace of God that I might grow to the Glory of God!
Are you taking the time required for growth?
Priscilla Hill-Ardoin
| | |
| --- | --- |
| | Priscilla Hill-Ardoin is the President & CEO of PH-Agency along with a motivational speaker, businesswoman, and philanthropist. She is retired as the Chief Privacy Officer of AT&T (formerly Southwestern Bell) and pioneered a telecommunications career for 32 years. Her personal passion is serving as the Founder and President of The Aaron Ardoin Foundation for Sickle Cell Research and Education (AAF) established in 2005. Currently, she serves on numerous boards such as Enterprise Holdings, Inc., Washington University in St. Louis, Haven for Hope Transformational Center for the Homeless in San Antonio, Vanderbilt-Meharry-Matthew Walker Center of Excellence in Sickle Cell Disease in Nashville, and Biblical Business Training. Priscilla has been recognized through the years for her generous charitable work and community service. Priscilla lives in San Antonio, Texas, but makes frequent trips to St. Louis to visit her son, daughter-in-law, and twin grandbabies. |