December 2019 - The Light Has Come
Taking Mary and Joseph as our example, let us bring Christ's hope into the world through our stories, presence, and leadership.
The Light Dawns
Author: The BBT Team
The holy family overcame their fear, embraced their responsibility and brought hope into the world in the form of Jesus.  How will you carry the hope of Christ with you this Christmas?


"The people walking in darkness have seen a great light; on those living in the land of deep darkness a light has dawned." Isaiah 9:2
Shining Light
People often wonder, "What does an ideal BBT group look like?"  Each one is as unique as the people who make up the group. The BBT coaches love talking to group leaders.  They want to hear about how their groups apply the curriculum, how they have created a community in their small group, who is gathering around a table to share the Word of God, or how they are expanding the Kingdom.
Sharing your group's stories helps potential new leaders and other groups understand that meeting regularly around God's Word has endless possibilities for:
Changing work environments
Creating community outside the walls of the church
Expanding God's kingdom
Thank you to the groups who communicate with our team to help us grow, improve, and serve.
We celebrate you and welcome your groups to share:
Feedback of BBT
Group Stories
Photos of Groups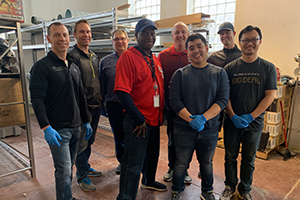 Sharing Light
Mike's BBT Bible study is committed to putting their faith into action.  After deciding to take part in a service project together more than a year and a half ago, they have continued the tradition.
Whether it's coats or canned goods, any time their company has a charitable effort, Mike's group works hard to be the most generous in the company.  However, it goes well beyond the giving of their financial gifts.
Every quarter, all the members of the group take a Friday off work.  They meet for breakfast for their regular Friday morning Bible study, before they go out to give sacrificially of their time.  Just this quarter, they helped with Habitat for Humanity to build a home for a local family in need.
Everyone has different gifts that they can give.  Some are blessed financially, some with talents, some with flexible time.  Mike's group is working hard to utilize all their gifts, even if it means using four precious days off work each year.  To them, it is part of their Christian calling to love God through loving and caring for others.
Give Time
Give Talent
Give Treasure
Give Leadership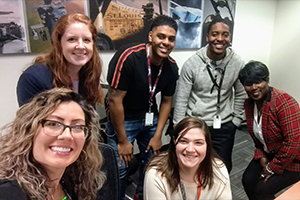 Spreading Light
Stephanie works at a large multinational company and was a participant in the very first BBT Bible Study group at her local campus. She became a Group Leader and led the group until she found herself with a new job in a new building. When that happened, she faithfully handed the group's leadership off to another member and started a BBT group in her new location.
This month, after completely changing jobs within the company for the third time, Stephanie once again finds herself handing off a group and starting a new one in yet another building. Stephanie is leaving a legacy of thriving BBT Bible studies behind her.  She has created this legacy because she firmly believes that any Christian can and should sit down and study the Bible together in community.  This knowledge helps her:
Freely invite her coworkers
Faithfully respond to new opportunities
Stephanie believes that God does not leave her to do this holy work alone and therefore continues to build an amazing community of believers in her workplace.
Will you step out in faith to be part of God's work in your workplace?