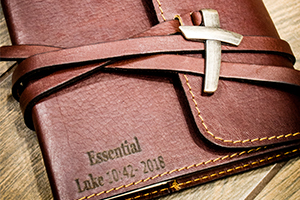 But the Lord answered and said to her, "Martha, Martha, you are worried and bothered about so many things; but only one thing is necessary, for Mary has chosen the good part, which shall not be taken away from her." – Luke 10:41-42
At the end of each year, I spend time in prayer asking God for one word to best describe what He wants me to focus on during the upcoming year. 2017's word was weakness—which was not a word I wanted to focus on for a year. The 2018 word is essential—I confess, 2018's word seems to be significantly more upbeat than 2017.
You may be wondering how I got to the word essential. It started with Rudyard Kipling's poem "The Sons of Martha" then moved on to Jesus' discourse with Martha in Luke 10:41-42. It might be helpful to learn that my mother's name was Martha and with my Father's help, she raised her six children to work hard. As a "Type A" personality, I find I am—both literally and figuratively—a son of Martha. God took my affinity for Kipling's poetic description of the Type A personality and wove it into Jesus' words from Luke 10. It created the awareness that this year I am to take this driven personality He gave me, and my parents nurtured, and use it to focus on what is essential, and at the top of the list is spending time at His feet, in His Word.
On our team's monthly spiritual retreat in January, I encouraged them to find their word for the year. You will see more about their words in the year ahead.
As this year begins, I would encourage you to ask God for a word that will best describe your focus during the upcoming year. One of the most interesting things that I've learned through this practice is that spending time in God's Word as a daily priority leads to successful focus on the word of that year. Whatever your personality type, God has a specific plan for this upcoming year in your life and spending time in His Word is one of the key elements of a successful life.
Our team wishes you and your family a Happy and Blessed Year!
Robert
Robert Millar joined the BBT team as the Executive Director/CEO in June 2017. Robert was born and raised in Ballymena, Northern Ireland. Robert brings 22 years of international ministry and leadership experience to BBT from his various roles in ministry. He shared Christ with his own people in Northern Ireland for seven years before God called him as a missionary to Munich, Germany where he served for almost a decade. It was in Munich that he met his American wife, Bethany, who was also serving on a mission team in Munich. In 2011 God moved Bethany and Robert back to her home town of St. Louis, where Robert served as College Minister at Washington University in St. Louis and then as an Executive Pastor in a local church. Bethany and Robert have a young son and enjoy spending their time with Bethany's family as well as their spiritual family at U-City Family Church.