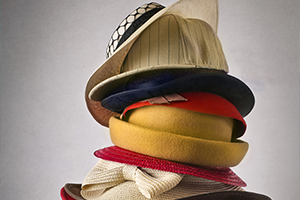 In the presence of God and of Christ Jesus, who will judge the living and the dead, and in view of his appearing and his kingdom, I give you this charge: Preach the word; be prepared in season and out of season; correct, rebuke and encourage – with great patience and careful instruction.
Many Hats
I wear many hats—daughter, student, wife, mother, employee, friend, leader, mentor. Almost everyone wears more than one hat, but do you have to take one hat off to put on another? Granted, in the literal sense, you would look silly wearing more than one actual hat, but in the figurative sense, you could be wearing multiple hats (or roles) at the same time. Each hat we wear gives us perspective that enhances contributions we make in other roles, though sometimes we don't even realize it until it's happening.
The BBT Leadership Team chooses one word to focus on for the year. When I shared my word, presence, Robert asked, "Do you mean God's presence or your presence?" I smiled, laughed and said, "Yes!" God led me on a path of experiencing His presence this year. I soon found out—like I usually do—when you ask for God's will, He shows you and expects you to fulfill it.
Practicing Presence
Appropriately, I chose Jesus Calling for my daily readings for the year since the tagline of the book is "Enjoying Peace in His Presence." The book was a gift from my retreat sister a few years ago. The same retreat sister contacted me this year about an opportunity to start a Young Catholic Professionals (YCP) chapter in St. Louis. She said, "Knowing what you do for a living at BBT, I thought YCP would be right up your alley."
During the YCP feasibility study process, I felt torn—professionally and personally. Was my role for BBT and the opportunity in the YCP chapter a conflict of interest for me? After conversations with the people in both organizations, they unanimously agreed that I should continue to wear both hats. My contributions to both BBT and YCP would ultimately benefit God's Kingdom and enhance the missions of each organization. It is a prime example of how the perspectives and experiences of wearing two hats complement each other.
The YCP chapter received the Archbishop and YCP National approval so the new St. Louis chapter leadership team attended YCP's National conference timely titled, "Practice the Presence." Three leadership takeaways about practicing the presence from speakers at the conference included:
"Let it be our business to keep your mind in the presence of the Lord." – Brother Lawrence of the Resurrection, 8th Letter, The Practice of the Presence of God
"There are 168 hours in a week. How are you spending your time?" – Harry Kraemer, author of From Values to Action
"Receive the gift of this presence and live the gift of His presence. We are always present to God. He chose you! Practicing the presence is a state of grace." – Sister Virginia Joy, S.V., Respect Life Office for the Archdiocese of New York
Present Intent
For me, when I ask God for His will or intentional focus, He reinforces His message in every aspect—through every hat—in my life. This year's theme of presence has led me on a path of deeper faith through:
Spiritual Development – empowering others to grow in their relationship with Christ through my church, BBT, and YCP, which in turn, renews my faith.
Family Foundation – my involvement with family, church, and YCP models being present and leading in faith for our boys.
Professional Growth – trusting in God's plan for BBT and my role gives me His presence to serve my team and God's Kingdom.
Are you practicing God's presence under your hats?

Lori Drury
Lori Drury joined the Leadership Team in February, 2016, but her journey began many years prior with group involvement and an increasing knowledge of business development and marketing which translates well to growing the mission and vision of BBT. She brings more than 10 years of marketing, business development, and brand awareness experience from her previous roles at Cushman & Wakefield, the University of Missouri, Robert J. Trulaske, Sr. College of Business, and entrepreneurship. Lori earned a Bachelor of Science Business Administration with an emphasis in marketing from the University of Missouri. In her spare time, outside of family and work, she volunteers her time with several professional and community organizations in St. Louis.
She and her husband, Kory, have two young sons and are members of St. Alban Roe Catholic Church..