Receive the Gift of our Lord's Grace!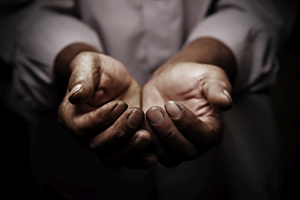 But by the grace of God I am what I am, and his grace to me was not without effect. No, I worked harder than all of them—yet not I, but the grace of God that was with me. – 1 Corinthians 15:10
The word "Grace" has a meaning like no other; however, it is difficult to define. But I feel three of Peter Sage's levels of consciousness: To Me, By Me, Through Me, can help us better define Grace.

To Me
The "to-me" consciousness is in attack mode, believing things are attacking our daily lives and causing things to happen to us.
Application: Let's start with the concept of being "thankful." We say, "thank you" to the barista at Starbucks, the person who holds the door open, the person at the check-out counter, essentially every interaction during one's day when someone does something for you. Taking a few moments to be thankful for all the people that impact your daily life can start to change one's perspective from the "to-me / victim" mentality to one of being thankful.
By Me
The "by-me" consciousness believes that the blessings we have were solely created by us. One's possessions, job title, financial success, career success, etc. are used as a tool of comparison to another to demonstrate all that has been accomplished "by me."
Application: Being "grateful" is a feeling of happiness or contentment, usually stated in the form of comparison. We typically hear someone is grateful due to their circumstances (e.g., financial, health, social) relative to what their circumstances could be. "I am grateful for my life, look at all that's been accomplished "by me." By comparison, we all have much to be "grateful" for, God has blessed our lives, our families, careers, companies, etc.
Through Me
The third consciousness is "through me." I believe this can only be accomplished when people let go of their ego and let God fill their hearts with passion and their minds with the unique talents God has given each of us. By understanding that "By the grace of God I am what I am" (1 Corinthians 15:10), we start to realize that when we become a servant of God, a conduit for God's blessings, we start living a life filled with His grace.
Application: Being "grace-full" is what God desires for all of us. Living a "grace-full" life is one in which God is working "through me." God is leveraging our gifts and talents to serve, to inspire, and to enrich the lives of His people. There is no greater feeling.
The word Grace doesn't have to be hard to define. When you let God come "through you" to influence the world, you understand the richness of the word and the gift given to all of us; then you are Graceful.
We have much to be thankful for and grateful for today. In the new year, I challenge you to become more "grace-full" by realizing the opportunity to make a difference in the lives of others when we put our egos aside and let God's love and grace come through us with all we interact. Perhaps when God comes "through us" we can impact the lives of those that believe the ills of the world are happening "to me."
What opportunities to become more "grace-full" are already in your life?

Gary Baker
Gary Baker is the Managing Partner, President & Director of Relational Planning at Undivided Wealth Management. Gary decided to become a financial advisor nearly 20 years ago out of passion for investing and desire to help people live exceptional lives.  He feels privileged to serve our clients and work with them towards achieving all they want to in life, in their careers and in their businesses.  Gary is proud of the firm we have created because he knows the integrity of each of team members is core to their success, as everyone on the team understands who the most important people are in our business, our clients. Gary received his B.A. in Personal Finance from the University of Missouri – Columbia and an M.B.A. from Washington University. Gary is also involved with two projects that he is deeply passionate about; The People Centric Project and The Warrior Transition Network. He also knows that his faith and his family are most important to him and by far his most valuable "asset".