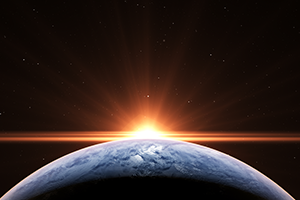 The people walking in darkness have seen a great light;
on those living in the land of deep darkness a light has dawned.     – Isaiah 9:2
A young woman in a small, out of the way town. An unexpected holy visitor. A strange and terrifying message that would change her life forever. In the face of so many fears and uncertainties, Mary took responsibility, and through her, hope was born into our world.


Humble and Faithful
Through this humble young woman engaged to a craftsman, God entered the world as one of us. Through this one, young and faithful couple, God's plan for the world was fulfilled. The young couple undertook a journey to a faraway city at the behest of a powerful emperor on the other side of the known world. They weren't wealthy or powerful or famous. No one would have known their names if not for their ability to:
Overcome their fear
Take responsibility for what God was calling them to do
Respond in faith
Imagine the many fears and worries that could have been going through the holy family's minds on that journey: angels and dreams, a looming marriage, a life to build together, a surprise pregnancy, a long journey to a faraway place. Yet God was behind it all. Through them, hope was born into the world. Even the powerful and far away Caesar Augustus was a part of God's plan. It was through him that Mary and Joseph were sent to Bethlehem so that the savior would be born in the home city of King David as the prophets foretold.
Great Things, Normal People
Great things were accomplished through normal people. Because of Mary and Joseph's faithfulness, God entered the world, lived among us, taught us, provided an example for us, and ultimately, gave his life for us.
In the face of all that the holy family faced, how can we be too afraid to take responsibility for our small part of God's work in the world? God has entrusted each of us with a small part of the divine mission. We may not each be called to carry Christ to a faraway place at great personal risk as Mary and Joseph did, but God gives us the courage to overcome our fears, embrace our responsibility, and carry Christ to our friends, neighbors, and coworkers.
How is God calling you to bring His hope to others this Christmas season?

The BBT Team
| | |
| --- | --- |
| | The Mission of Biblical Business Training is to help people apply Biblical principles at work and expand God's kingdom through their leadership. BBT provides Biblical leadership development and curriculum to small-group Bible study leaders, helping them grow in their relationship with Christ and equipping them to pour into the lives of others. |