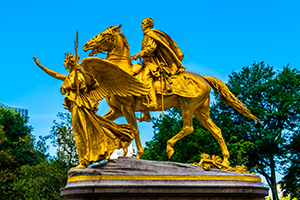 Two are better than one, because they have a good return for their labor: If either of them falls down, one can help the other up. But pity anyone who falls and has no one to help them up.
– Ecclestiastes 4:9-10
Have you ever felt unwelcome, misunderstood, or bullied? Have you ever felt victimized, mocked, or exploited? Maybe, you've had a health scare or lost a loved one. Unfortunately, I have experienced all of these feelings. Despite wonderful parents and a loving family, these experiences can still lead to unbearable loneliness and isolation.
I ultimately came out of the darkness and into the light thanks to my family, friends, and faith reminding me I am never alone. As the youngest of four, I was given a front-row seat in seeing the importance of faith and prayer. I understood at a very early age how we are all connected by our faith through prayer and to lean into God during the worst times.
By this everyone will know that you are my disciples, if you love one another. – John 13:35
This verse has always had special meaning. When my wife and I lost our son, Connor, during a difficult surgery when he was an infant, I felt very alone and somewhat isolated. I was there for my wife and two daughters, but we grieved differently and had deep lows at different times. After the shock and well into our grieving process, we met a couple who had also lost a young child. Their daughter died about a year before Connor. They invited us to their home and were so gracious and vulnerable and it was such an impactful evening. They were incredible listeners, very loving, and sympathetic with many helpful observations. I was profoundly touched that in bearing this unspeakable tragedy, I was again reminded we were not alone.
That night, we started to find our purpose—our real WHY!
And we know that in all things God works for the good of those who love him, who have been called according to his purpose… He who did not spare His own Son but gave him up for us all – how will he not also, along with him, graciously give us all things? – Romans 8:28, 32
We have gone on to help many other families in the same situation and have served in many capacities at St. Louis Children's Hospital. We think and pray for Connor every day and are fortified by the close-knit, loving, and serving unit of our shared experiences.
They Will Know We Are Christians By Our Love
The words from this hymn also remind me of another place I've found for shared experiences: my BBT Bible study group.
We are one in the Spirit, we are one in the Lord
And we pray that our unity will one day be restored
We will work with each other, we will work side by side
And we'll guard each man's dignity and save each man's pride
And they'll know we are Christians by our love, by our love
God has blessed me beyond anything of this world. I am so fortunate and thankful that my Bible study group has given me the epiphany through our shared readings, study and truly living The Word! BBT has energized me in ways I could never have imagined.
Do you belong to a community that studies the Bible and energizes you to apply it to your life?
Jack Stapleton
| | |
| --- | --- |
| | Jack Stapleton is the Chief Relational Officer at Undivided Wealth Management in St. Louis, Missouri, where he partners with people to help them achieve the goals most important to them. Jack serves on the St. Louis Sports Commission Board, Children's Miracle Network Board and is past President of the Boston College Alumni Chapter. He and his wife, Bet, are active supporters and board members of St. Louis Children's Hospital where "Guardians of Childhood" is much more than a catchphrase. They are blessed with five amazing children, one beautiful granddaughter, and two pretty cool dogs. Jack is a member of the Catholic Student Center at Washington University and two BBT Bible Study groups. The angel on the pedestal with General Sherman reminds them of their very own angel, Connor. AMDG |