December 2018 - Graceful: The Application of Grace
Author: Gary Baker, managing partner at Undivided Wealth

To better understand grace and the application in today's world, look through the levels of consciousness. Gary Baker introduces us to the levels while visualizing real-world examples of how we can become more "grace-full".
Thus the saying 'One sows and another reaps' is true.  I sent you to reap what you have not worked for. Others have done the hard work, and you have reaped the benefits of their labor. - John 4:37-38
This Advent season, we are reminded of how much we owe to those who have labored to build BBT into a mission that will be a blessing to many thousands of leaders. It takes a special kind of Grace to sow a spiritual crop that will take years to bear fruit.
We will give and receive gifts as part of the Holy celebration of the greatest gift ever given. It is because of God's gracious gift of His son Jesus Christ that we can give without thought of what we get in return. To be called to sow a crop that others will reap is to be called to emulate our Savior. We are deeply grateful for the selfless generosity of the leadership and stewardship of our Board of Directors. They have shown that special Grace as Sowers into God's Kingdom.
And though a man might prevail against one who is alone, two will withstand him—a threefold cord is not quickly broken. - Ecclesiastes 4:12
It isn't easy to lead something on your own. It can be lonely and overwhelming to venture out to the unfamiliar. Our group leaders are values led at work, but when it comes to stepping out to share their faith, it can be intimidating. BBT small-group Bible study allows leaders to start a group with shared leadership among peers—co-leadership.
Introducing a church to BBT means leaders not only have work peers to join them, but more brothers and sisters in Christ at their church. Those leaders surround themselves with spiritual support in the places they need encouragement and leadership development the most—at work and church.
We make thoughtful and calculated investments with every aspect of our lives—financially, intellectually, and relationally. Why do we forget about our churches? An opportunity to invest with your church could mean the threefold cord prevails.
For just as each of us has one body with many members, and these members do not all have the same function, so in Christ we, though many, form one body, and each member belongs to all the others. - Romans 12:4-5
At different times, we need to receive God's grace in different ways. Sometimes God's grace has gone before us, clearing the way to be part of God's plan and move forward at great speed. At other times, God has given us grace through connection to other Christians, for instance when we used the support of a peer group to strengthen us while facing a challenge. Still other times, God has spoken through the voice of a mentor who invested intensely in our life and calling.
Our group leaders may need different types of grace at different times. At BBT, we stand ready to help according to our group leaders' needs. Those needs change over time. Talk to a coach about how BBT can support your Bible study in this season.
Author: Gary Dollar, partner at EMD Consulting

We're coming to a season of busyness, excitement, and stress. Many of us will be stressed and feel there just isn't enough time. Nonprofit consultant and pastor Gary Dollar reminds us that God slows down to walk with us...if we rush, we will soon find we have left God behind.
Jordan brings theological training and pastoral experience to his role as a BBT Leadership Coach.  He has used his first year for building the foundation on which BBT's coaching department will scale up with exponential growth. That began with Jordan spending months absorbing the culture and unique methodology of BBT, followed by months of developing profoundly simple steps that explained the deep theological and methodological values and vision of BBT.
His breadth of skills allow him to not only develop leaders in one-on-one conversations but also processes and tutorials for Group Leaders:
Relationship Building with current Group Leaders
Virtual Coaching Videos - Coming Soon
Using the BBT curriculum, Cyril Narishkin has started and led four Bible studies at four different corporations over the last eight years. His current group of 12 meets every Monday morning at a local hospital. As a leader, Cyril explains that he particularly appreciates BBT resources because they are:
Vetted and well-researched,
Credible, making him look more legitimate as a leader, and
Thought-provoking.
Because the resources encourage thought-provoking, Bible-based discussion, Cyril suggested to his wife, Amy, that she use the BBT curriculum for the Bible study she started this fall. Amy had been looking for materials that were well-researched and asked open-ended questions, beyond right-answer response questions so often presented. She wanted to facilitate a Bible Study group that was based on authentic relationships and reflective conversation that encouraged application to real life; BBT resources met her criteria. Amy's group started meeting in October of this year. She and her group members are all entrepreneurs with flexible schedules, so they meet biweekly at a local coffee shop. Amy intentionally named her group "The Thinking People Group" to not only encourage in-depth practical discussion but also allow for space for diverse spiritual perspectives. She loves that even though each person in the group has very different experiences, they get to affirm one another's experience even if it's not their own. For them, this is love in action. BBT's refreshed curriculum appeals to Amy because rather than giving easy answers, they get to work together to engage their minds and spirits in discerning God's love and will for their lives.
Happy Thanksgiving to all celebrating ... "As we express our gratitude, we must never forget that the highest appreciation is not to utter words but to live by them."
–John F. Kennedy
As an Irishman living in America, I find Thanksgiving to be both refreshing and remarkable. It is refreshing to have the opportunity to spend a day expressing gratitude for all that God has given us. But it is also remarkable that the next day is devoted to a national expression of greed as we rush to get the best deal on Black Friday. We utter words of gratitude then live as if the best thing to do with the next day is to ensure we are grateful for more things.
I am a competitive person, and it's easy for me to say I'm grateful with one breath and then dash off after the next big deal, having lost the moment of gratitude. Staying focused on God's Grace allows me to take that gratitude with me as I chase the next deal. Thanksgiving can start the Advent Season.
Happy Thanksgiving!
From Robert Millar & the BBT Team
How can you take an attitude of gratitude as you pursue the next deal at work?
October 2018 - Grace to Go and Grow
Author: Jordan Dollar, BBT Leadership Coach

Sometimes we would rather just work hard to achieve and deserve everything God gives us.  It takes humility to rely on God's grace, but this is the only way forward for a Christian.  BBT Leadership Coach,  Jordan Dollar, writes this month about grace and the ways that we may be tempted to rely on ourselves rather than God.
Partnership is a thing of grace.  Grace to come together as you are to grow God's Kingdom.  With a vision for exponential growth, BBT seeks to partner with churches, businesses, academics, and associations through leaders willing to make the connections.  It starts with leaders connecting BBT with their own personal network.  Once introductions are made, there are discussions around the Partnership Roadmap that determines how BBT can come alongside as an effective partner.  It outlines:
Steps to achieve growth goals
Roles of partnership leaders
Expectations and timelines
This month's newsletter talks more about what key leaders are accomplishing the vision for exponential growth of God's Kingdom.
Natalie Roedemeier was introduced to BBT by way of the Young Life cup in her office cubicle at CTMT (now Cushman & Wakefield). It was in that moment that Brandon Mann, founder of BBT, invited her to join a Bible study in a conference room with their peers. She didn't know it at the time, but her participation every Thursday morning helped write the story of what BBT is today. As with the lifecycle of most small groups, Natalie has participated in or led several groups in the last decade.
Recently, God called her to step out as a leader and with support from peer leaders, she is leading and developing others at her workplace through BBT. The group has formed a tight-knit community that reaches beyond their weekly study to encouraging interactions and prayerful connections with coworkers. When Natalie overcame fear and accepted God's call to lead, she and her group really began to grow in their relationship with Christ. She:
Accepted the grace God showed her and stepped out as a leader
Overcame the fear of perfectionism for the opportunity to grow
Partnered with other individuals to live out their faith for work
What is holding you back from living out your faith for work?
Part of the original BBT 10 years ago, Greg Schuster is passionate about helping professionals learn and develop leadership skills.  A 19-year commercial real estate veteran at Cushman & Wakefield, Greg has learned that every change in business, whether incremental or transformational, has the potential to test a leader's character, courage, trust, and confidence in the teams they lead.
Over the last decade, Greg has encountered leaders across many sectors seeking to develop their leadership skills and live out their faith and values in the workplace.  BBT provides a forum to apply Biblical leadership principles and have real discussions about successes and failures in these areas.  This opportunity to meet with others on a regular basis has been a significant shaping influence in Greg's own life and career.
Most leaders wish they had more connection to other leaders, more time to pursue their own learning and development, and some type of structure to follow.  Greg has found the leader network, curriculum, and support BBT provides to be empowering in each of these areas.  He is expanding his partnership with BBT to help more leaders in his network connect with and lead BBT groups.
Check out Greg's fellow leader, Natalie Roedemeier, in our group feature. Natalie is encouraging and equipping others on a weekly basis through BBT in her own workplace.
Would you partner with other Christian leaders in your workplace?
September 2018 - Pursuing God's Call to Leadership
Podcast is Live!
Dennis Muilenburg's interview with Pastor Tom Hufty in the "Faith at Work" episode of the PointTaken podcast is live!
Author: Dennis Muilenburg, chairman of the board, president and chief executive officer of The Boeing Company

Dennis serves as BBT's Board Chairman and weighs in as we culminate the theme of pursue.  Dennis discusses how God pursues us, and how God pursued him to join the BBT mission.  He shares that the "game-changing" vision of BBT is how we take Faith for Work and transform it in every aspect of life as Leadership for Life.
Since inception, BBT has onboarded group leaders in an organic, one-on-one interaction. God calling Group Leaders to lead a Bible study at work can be intimidating—just ask our founder. Having a clear understanding of how to get started, setup a group, and hold the first meeting with the support of a Leadership Coach helps a leader fulfill God's mission. BBT joins leaders as they start groups and have a passion for equipping them with the tools needed to lead. Part of empowering leaders is providing a clear roadmap of the first 90 days of their leadership and group expectations.
The group leader roadmap outlines a journey from idea through the group's first year. A Leadership Coach is available at every step in the process for guidance and discernment. The key expectations for a new Group Leader are outlined as:
Answering God's call by completing the Start Leading sign-up form
Leading in the first 90 days with an orientation email series about BBT and coaching
Interacting with a coach about the lifecycle and goals of the group
What roadblocks have prevented you from answering God's call to lead?
Wherever Stephanie goes, God's calling goes with her.  Stephanie works at Boeing in St. Louis, and for several years attended a BBT Bible study in her building.  When her organization was relocated to a different building, she was left with a choice, travel back and forth to the existing group or step out in faith and plant a new one. She started a thriving Bible Study in her new building and invested in leaders in that group.  When, less than a year later, Stephanie was moved to a another new building and campus, she handed her group off to three leaders who stepped forward just as she had.  There is now a new and thriving group at her new campus.
God has affected staff across three buildings and two campuses through Stephanie.  Could you do the same?
Bring faith to work.
Step up and lead.
Invest in equipping others.
If the church isn't developing leaders to be deployed in the workplace, it is not doing all that we can to be God's presence in the world. Dr. Tom Hufty of First Baptist Church Maryville believes in developing leaders that will be God's hands and feet both inside and outside of the church. This is why the church hosts a monthly leadership luncheon. Being part of the church, or even being a Christian, isn't a requirement to come. The luncheon discussion breaks through the sacred/secular divide.
When there was an opportunity for Dennis Muilenburg to address the luncheon, Tom jumped at the chance. Dennis shared with the group how his faith has informed and transformed his leadership, and the importance of character and integrity for both faith and work. This passion for developing character and integrity for leadership is what led Dennis to chair the board of BBT.
This is why First Baptist Maryville is launching a partnership with BBT. The partnership is helping leaders in the community develop character and integrity that will transform communities and reach people for Christ outside of the church.
Do you want to hear more on Tom's leadership luncheon with Dennis? Listen to the PointTaken podcast (iTunes).
August 2018 - 10 Years of Pursuing God's Vision
Executive Director Robert Millar speaks about what it means to be a Christian leader in the workplace. As leaders, we feel we need to keep the persona of having it all together and not being vulnerable. Taking the Word of God into the public view at work takes courage. If we accept that we are a work in progress, it makes the journey easier to share with those around us.
Leaders are imperfect and incomplete, a work in progress
God is not finished chiseling away at you
Step down from your pedestal and lead with/among others
Watch Robert's video...Is God calling you to start a Bible study?
Our team is thoughtful about the content we post and the information we share on our website and social media platforms. To spread God's Word in the workplace, we need influencers to share our posts to their networks. Stay connected to updates with news, blog posts, and thought leadership by following us through various channels:
The BBT founder, Brandon Mann, recalls how God called him to start a Bible study at work 10 years ago. "When God gives you a vision…pursue it!" says Brandon. Even though he was an executive by title, he didn't think he had what it took to lead a Bible study, especially at work.  Surrounding himself with other Christ-centered leaders and trusted advisors, helped him overcome the doubt and turn to God for guidance.
The first BBT Bible study was born in a corporate office, but the application of Biblical principles at work can be used in any industry or workplace setting.  The BBT 1-2-3™ Curriculum that empowers any leader to pick up the guide and lead a Bible study was created when that Bible study in that corporate office needed a new study and was unsure where to turn. The first group took turns leading the group to accommodate business schedules and develop other leaders for the group and in the workplace.
July 2018 - On Mission Pursuing Kingdom-Sized Goals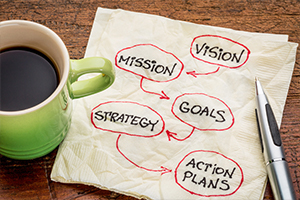 Being on Mission
Our new team has its first full year under our belt.  A year of building, believing, and being on mission. We are stepping out to join those who God has called to apply Biblical principles at work whether individuals, businesses, or churches. This year was about refreshing Biblical Business Training (BBT) in preparation for the multiplication of Kingdom leaders. Volumes of curriculum received a new look featuring new sections based on our Leadership Flywheel.  The website was refreshed with ease of navigation, dynamic imagery, and on mission messaging.  The Portal was rebranded to Go!Connect—go connect to curriculum, your group community, and coaching. Leadership coaching features a new coach with 10,000+ hours of ministerial experience. New relationships were established with churches in deploying their leaders outside the church walls and developing them in their workplace.
Is BBT a fit for your church?  Would you introduce our coaches to your pastor?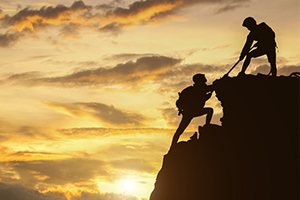 Kingdom Goals
While our mission is about empowering leaders in small-group Bible study, we believe God has given us a kingdom-sized vision for growth. To meet that kingdom-sized growth, we need to quadruple the number of leaders and partners. The great thing about kingdom-sized growth is that you can never do it in your own strength.  Kingdom goals require the King of kings to pursue them.  Colossians 3:23 reminds us that all we have to do is what we can and God will do the rest. We are pursuing the expansion of His Kingdom.  Matthew 6:33 tells us that everything else will be added to you. July is the first month of our ministry year.  Looking ahead to another year of pursuing the kingdom vision, BBT is helping more people apply Biblical principles at work.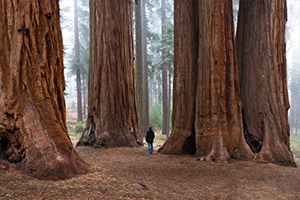 God Pursues
As BBT approaches the 10th anniversary of the first BBT Bible study, the leadership team reflects on God's mission for the organization. God called us to grow His kingdom through small-group Bible study leaders. In order to do this, we need to continue our pursuit of His will, not by our own strength, but His. The founder and leadership team have a clear mission and ambitious goals to grow God's Kingdom through exponential growth of leaders for the Lord.
June 2018 - Transitions…to peace, to leadership, to God's mission for life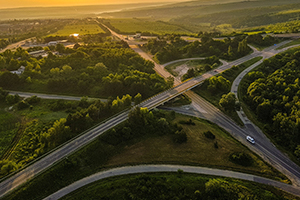 Esther: Fulfilling Life's Mission
Have you ever wondered if God is really involved in the circumstances of your life? We all know what it feels like to be terrified to speak up for what we believe in or be at a cross-road of decision making. It may mean sacrificing our pride, our reputation and/or our creature comforts. But it may also mean playing a role in God's mission. God will accomplish His plans, but if we listen and recognize, we can have the privilege of participating.
Learn how Esther teaches us to be part of God's agenda with:
Clarity & Courage
Overcoming Obstacles
Faithfulness
Are you participating in God's plan or just inviting Him into yours?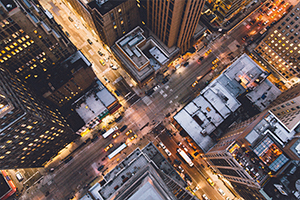 Partnership Strategy: Church Leadership Development
BBT not only equips individual leaders but also churches who seek to empower their lay leaders of small group Bible studies. BBT joins with churches to help them deploy lay leaders into workplace ministry. Their leaders execute the Leadership Flywheel™ returning to their church to engage more leaders to apply Biblical principles at work.
Highlights of the church partnership strategy:
Deployment and development of leaders into the workplace
Tools and resources for Bible study execution and leadership development
Three Church Partnerships
Would BBT benefit your church in deploying their leaders into the workplace? Connect with a Coach to discuss.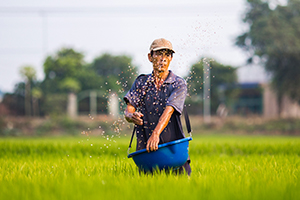 How to Discover & Walk on a Pathway of Peace
Ben Weaver helps men lead lives of Adventurous Faith by creating balance in their everyday lives. He is a speaker, coach, podcaster, entrepreneur, and author of Relationships Are Everything. After 15 years in ministry, he would make a dramatic change in his life to pursue what he was missing in his life—peace.
Ben's passion is helping quarter-life men experience a major professional and/or spiritual transition. The journey to his new found peace lies in relationships and helping other men achieve more through their most important relationship—with God.
What are you doing to ensure your heart and mind are at peace?
May 2018 - Faith + Work = Peace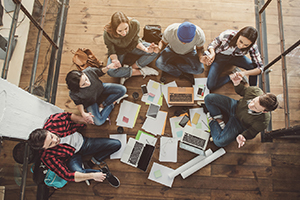 James: Faith that Works
Have you ever been tempted to lash out with harsh words, tempted to endure trials by your own strength, tempted to take matters into your own hands?  James helps us understand how temptation leads to sin and how we can instead overcome through:
Prayer
Godly wisdom
Faithful obedience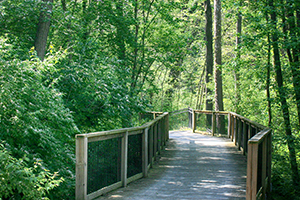 Peace from the Inside Out
Caren Libby is a participant in the Team Medici Bible study group. She says her participation in this group reinforces the power within that God has given us to find our peace and share it with others. It's an opportunity to grow in our faith and radiate the light that starts inside. When we take responsibility for our spiritual lives, we can choose:
Joy over sadness
Serenity over suffering
Courage over fear
Would you consider participating in a BBT Bible study to reinforce your peace?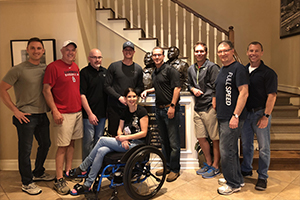 Community at Work
When Bible study leader Mike McDaniel's group at Cisco decided they wanted to give back with a day of service together, he asked the group members what they were passionate about. One of the members, an Air Force veteran, told them about Fisher House. McDaniel says the experience of serving together has brought more energy to his group as well as a strong drive to continue helping others individually and as a group.
This is why BBT exists...because when Christians apply their faith at work they become a community of leaders and their impact knows no bounds.
April 2018 - Peaceful Leadership: An oxymoron?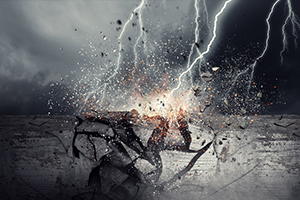 Learning with Nehemiah
The best book on parenting is the Bible.  The best book on leadership is the Bible.  Sitting with our peers and asking how the Bible applies to us today is one of the best ways to experience God's Word as both relevant and transformative.  In the Nehemiah volume, we find a person who faced an overwhelming task; felt inadequate to meet a challenge; and struggled with motivation, fatigue, and criticism.  Studying Nehemiah can help you learn practical approaches to tackle God's difficult assignments.
5-part study on how to serve through opposition
Discern your mission for God
Saturate yourself in Prayer
Where has God placed you in a leadership role?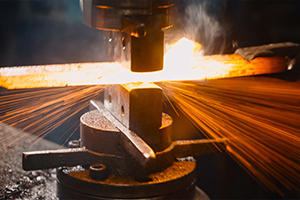 Leadership Coaching
While leadership is the last of our four promises, we believe the key elements to sustaining peace--for a person, a family, a community--is Christ-centered leadership. Our leadership coaches know leadership is not something you can learn or earn; it is a gift from God developed through relationships to expand His Kingdom. Through our Leadership Flywheel™, our coaches focus on three values of leadership:
Spiritual Leadership - Learning from God's Word
Servant Leadership - Living among God's People
Shared Leadership - Leading by God's Grace
Our coaches are committed to serving you as God grows your leadership--in your home, church, community, and work.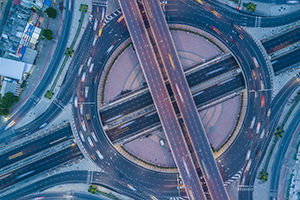 Peace be with You
The Biblical Business Training team's commitment to one word for the year continues with Lori Drury's word—Peace!
Read how Lori discovered (confirmed) her one word of the year and how it challenges her to keep peace as a top priority on her "to-do list".  Peace can be found in many forms, but being focused on a Christ-centered life is the essential form.
March 2018 - Discern Your Mission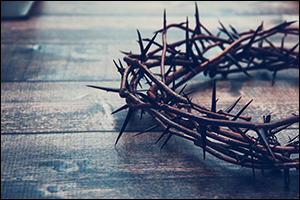 Easter Victory
Are you living a joy-filled life reflective of your Victory in Jesus, standing firm in your faith, and working for Him with confidence? Because He is risen, we have a mission! The study will help you remember - the battle is already won!
Trust in Christ's crucifixion
Live in Christ's resurrection
Celebrate Christ's glorification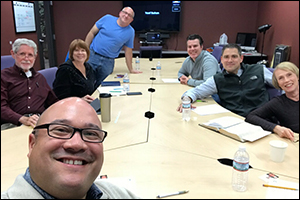 Co-Working Partnerships
Brett Kline merges his deep spiritual foundation with his passion for cooperative entrepreneurship in his pursuit to have a Bible study in the co-working community in St. Louis.
Who: 15 participants in the Medici Bible study
What: 5 new Bible studies by the end of 2018 - 2nd in progress
Where: B2B co-working ecosystems around St. Louis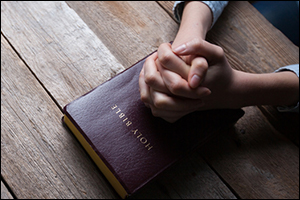 Call for Prayer Warriors
We are overjoyed to introduce you to Kim Davidson. Kim is a current group leader and will lead our newly formed Prayer Team. She wants to share prayer time with the BBT community.
If you are a group leader or participant, you can join Kim and other prayer warriors as a new "group" in Go!Connect. Weekly prayer meetings will be held. The group will accept prayer requests and praise reports while they come together in Christ to raise them up to our Father.
February 2018 - The Equipping of a Leader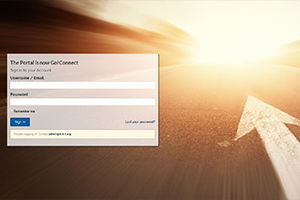 What's in a name?
Our proprietary technology, once called The Portal, is now Go!Connect.
Connects you to God, your group, and your growth
Reinforces our mission of joining you to help you lead a group
Collaborates with the multimedia resources on the website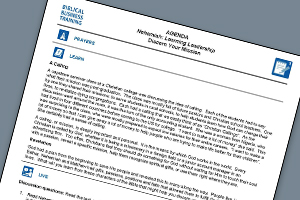 Reflect on Application
The new look continues with the formatting of our curriculum.
Same focus on God's Word and applying it to your work
New layout to equip you to Learn, Live, and Lead
Expanded Recaps offer summary, application, and reflection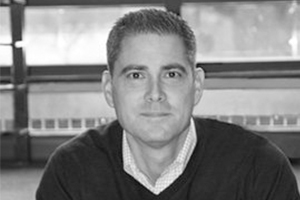 The Dream of Leadership
At the heart of the Biblical Business Training mission is partnership.
We believe partnership begins with an individual leader.
Success for us is joining thousands of leaders like Brett Kline as they lead a Bible study in their workplace.
January 2018 - Growth, New Look, and One Word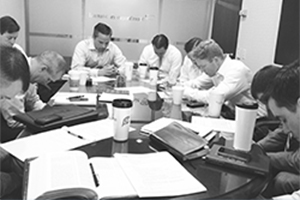 1000+ Groups by 2022
The first Bible study started in 2008 in a corporate conference room in St, Louis. Our founder received a mandate from God to have 1000+ groups by 2022. The 2018 beginning count is 40.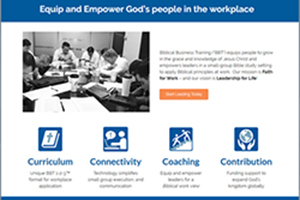 Website Re-design
With a team full of God-given talents, we redesigned the website. We have brought our cornerstones to the forefront: Curriculum, Connectivity, Coaching, and Contribution.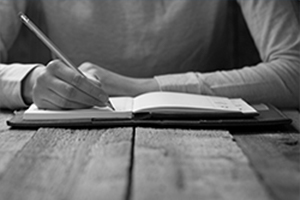 New Blog Post
The first blog post of the new year features one word. As you read, you will discover that one word will be a theme for each of our team members in 2018.  One word can help you focus on God's Word daily.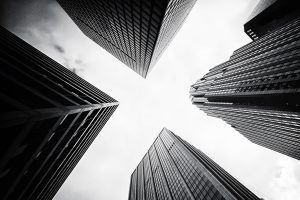 The Re-designed Website
The site features:
Leadership and Vision
Curriculum, Connectivity, Coaching, and Contribution
News, Blog, Kingdom Stories, and Tutorials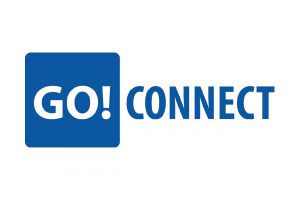 The Portal is now Go!Connect
With the re-design of the website, the Portal received a new name >> Go!Connect.  Users have the same access to curriculum, community, and coaching as before, but more connectivity will be added soon.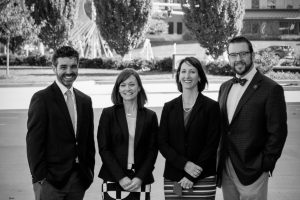 Meet our Team
From left to right:
Robert Millar - Executive Director & CEO
Lori Drury - Communications Director
Sarah Harre - Curriculum Editor
Jordan Dollar - Leadership Coach